---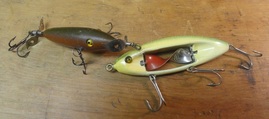 Click on picture to sell your old lures.

Welcome to Randy's Antique Fishing Lures.

"I BUY OLD FISHING LURES"

---
Visit me on Facebook Member of N.F.L.C.C.
National Fishing Lure Collectors Club
---
Be Sure To Visit My Blog Here
---
---
I am now accepting Consignments. If you have Old Fishing tackle to sell, and I am unable to purchase, I am happy to offer my consignment services. For a low fee I will find a home for your fishing collectibles.
---
I am an avid collector of early angling history and I am very interested in buying your old antique fishing lures, lure boxes, old reels, reel boxes, or any other items that are also related to vintage American fishing history.


I am always looking to buy, and always interested in hearing about any old wood fishing lure, box or any other antique tackle that you may have to offer or help add to these collections.

If you have old fishing tackle or emphera that you would like to sell or discuss, please email pictures to me at the email address below. If you call me by phone, I will still need to see pictures. Feel free to send pictures through my contact phone number at the bottom of this page. A picture really does tell a thousand words. Thanks for visiting my website.

If you wish to call me, please call in the late afternoon or evening central time. Chances are, you will not be able to reach me in the morning or early afternoon.

---
---
My intention on this website is to showcase examples of, and furnish information about our amazing angling heritage through pictures of antique lures, lure boxes, reels, and other related and historic fishing items or emphera. Hopefully the information contained within will add inspiration to the future of this fascinating hobby of Antique Fishing Lure Collecting.
---
I am continuously updating this website with more content and information, so please keep checking back.
---
(Click on images to enlarge)
---
Please see my other pages on this website to view the photo galleries of many Antique Fishing Lures and their Boxes among many other old Fishing Reels and Collectibles.
---
On this site you will find images and information about old lures, and boxes from many companies such as Heddon, Creek Chub, Pflueger, Shakespeare, South Bend, Keeling, Moonlight, Bite-Em Bait, and an extensive variety of early miscellanious lure makers. It will also focus on some of the early reel makers. I will be adding more content as time goes on so please keep checking back. Thank you for visiting.
(Click on pictures to enlarge)
---
If you would like to sell old lures or reels
Please email me at reellife53@yahoo.com
Call or text me at 219-242-0804
If I don't answer, please leave a message.

Copyright 2012 - 2019
All Rights Reserved
Randy's Antique Fishing Lures
No unauthorized duplication of any content from this website is permitted.


---