If you would like to sell old lures or reels
Please email me at reellife53@yahoo.com
or call me at 219-242-0804

---
Prices I Will Pay For Your Old Fishing Lures and Reels
and Antique Lure and Reel Values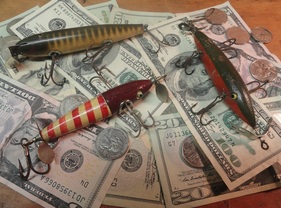 $$$ Convert those old lures into money $$$
Please keep in mind that there are many factors that determine the value of old lures and fishing tackle. I will try to outline a few of them.

For one thing, the market is always changing these days. Due to the economy, some lures are not worth as much as they used to be, and some are worth more. One thing to keep in mind is that what used to be rare is not necessarily as rare today as it used to be. Since the inception of eBay and the exposure to the world wide web, what used to be considered rare, just isn't anymore.

If it is a fairly common lure, and has seen it's fair share of wear and use, it is just not going to bring the price that it used to 10 years ago. Rare items in good condition will always be in demand, and will always fetch a good price that is relative to the economy. Book values are just not accurate, but they are a great guideline. Times have changed, and unless you keep up with the current market values on a daily basis, it will be very hard to value your collectible lure. With all of this being said, there is still a market for your old fishing collectibles, and I am willing to pay a very fair price for them if they are something that I am looking for.
---
- I will pay for shipping and insurance expenses -
---
I will pay book prices in most cases, but keep in mind that book prices are not the gospel of what the value of a piece of old fishing tackle is worth. I might pay more, I might pay less. I have paid as much as $4,000.00 and as little as $5.00 for a single lure purchase. That is a big spread. It wouldn't take much to figure out that the first figure was an extremely rare lure and box combo and the later wasn't much. Boxes will also add a lot to the value of a lure or reel in most cases. Condition is also critical when considering the value of your antique lure or reel, and what I would be willing to pay for them.

Please call or email me to discuss what you have. But, I would prefer to see accurate pictures first. A verbal description and seeing it with my own eyes are two completely different things. Condition and color are extremely important. Ideally, 4 pictures if it is a lure or reel with a high value. (Top, Bottom, and Both Sides). Just a general group view, if you have several items, is often enough for me to evaluate if I will need to see more pictures or not.

I could take the time and effort to create an extensive list of the different types and styles of lures and reels that I collect, and note specific prices that I would pay for each of them, but that would be nearly impossible due to all of the variables involved. Just know that I will be very fair when quoting a price. Pictures can be emailed to me at reellife53@yahoo.com . Please don't send images to my phone. If you are unable to email pictures, call me at 219-242-0804 and I will give you my mailing address, and you can physically mail photographs to me through the U.S. postal service. Please be sure to leave your name and return phone number so that I can call you when they arrive.
---
Packaging and Handling
I am often asked after I complete a transaction with a seller, "How do you want me to package these things?" Below I will outline a couple of things that should help in this process. It's really not as hard as you might think. In fact it's really pretty easy.
1. First of all try to select a sturdy box that is large enough to hold the contents.

2. Remember, the mail carriers do not always handle with care, so please try to make sure that the contents are packed securely in the box, and not able to rattle around loosely. Always use some sort of filler to stabalize everything. ie: shipping peanuts, crumpled newspaper, or my favorite, plastic grocery bags. It is always a great way to recycle too.

3. Lures should be very carefully wrapped to make sure that the hooks can not touch the lure bodies, or else they will become scratched or poked with the hooks. My favorite way of doing this is to wrap them up like little mummies using "good old fashioned toilet paper". Tear off 2 or 3 feet of it and then coil it up. Starting at the nose or tail of the lure, start wrapping and continue toward the opposite of the lure (keeping the hooks away from and outside of the lure body).

4. Care should be taken with boxes also. They can also become squashed in shipment. It is wise to wrap them up also (T.P or bubble wrap works well).

5. If shipping reels or other heavy or bulky items in the same package with fragile lures and boxes, try to keep them seperated and unable to come in contact with the fragile items.

Packaging can be done very efficiently and at minimum cost with supplies that you might already have around the house. There is no need to run to the store and buy materials that will cost you or me extra money.
---
Care and Cleaning of Antique Lures and Fishing Reels
If you have antique lures or reels that you would like to sell, I would highly suggest that you DO NOT attempt to clean or polish them unless you are a collector and you are familiar with the proper cleaning or polishing techniques. Many old lures and reels have been damaged, and their value has dropped significantly due to improper cleaning techniques. I recommend that you leave that up to the collector. A trained eye can access the cosmetic condition of the lure or reel through the dirt and grime, if there is any.
---
Lure Appraisals and Identification
As much as I would like to help everybody with antique lure appraisals and identification, my time is very limited and I am not able to furnish this service. I will do my best to help you as my time allows. Ocassionally I have more time than others, and with that said, I will try to help when I can to the best of my ability. I am unable to furnish any form of legal appraisals for insurance purposes. This is a hobby to me and a labor of love.
---
Consignments
If by chance you have old vintage fishing items that you would like to sell, and I don't need them or I am unable to buy them, I can possibly help you find a home for them for a small consignment fee. Email or call for details.
---
If you would like to sell old lures or reels
Please email me at reellife53@yahoo.com
or call me at 219-242-0804


Copyright 2012-2015
All Rights Reserved
Randy's Antique Fishing Lures
No unauthorized duplication of any content from this website is permitted.