If you would like to sell old lures or reels click (Here) or
Please email me at reellife53@yahoo.com
or call me at 219-242-0804

---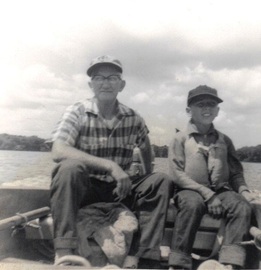 In the U.P. of Michigan in the 60's with Grandpa.
Hello and welcome to my website. My name is Randy Nelson and I have been collecting antique lures and old fishing tackle for over 20 years. I live in northwest Indiana, which could almost be considered the hub of the country for the development of the fishing tackle industry since the early 20th century. So many of the largest lure companies were located within a 200 mile radius of my home, and with that being said, it is no wonder that I had exposure to so many of these curious old lures and baits that intrigue so many collectors today.

I have been an avid fisherman my whole life and grew up in a fishing family. When it was time for a vacation, there was no question that it would be a fishing trip. I am thankful that I had a family that brought me up that way, and left me with so many fond memories of the fishing times of old. Those days are gone, but the memories still linger when I handle an old fishing lure or other piece of old nostalgic tackle. As a kid, I used to play in both of my grandfather's tackle boxes with wonder and amazment. I imagine some of those old curiosities still linger in my mind, and still compel me to pursue these amazing works of art and ingenuity.

My first aquisition was an old tackle box that I purchased at a local auction over 25 years ago that was loaded full of cool old lures and other curiosities. I brought them home, started handling them, and the rest is history. I was bitten by the antique lure collecting bug!
---
---
Take a kid fishing, they will never forget it!
---
On the banks of the Tippecanoe River in North Central Indiana is where my Grandpa Candy spent his leasure time with his friends running trotlines and exposing me to some of the most interesting fishing memories I can remember. He was known as the king of the trotlines. As a small boy, those big ole catfish seemed big enough to eat me. His tackle box was always full of all kinds of Heddon River Runts, his favorite lure, among many others as he also spent many hours trolling and casting them for bass and pike.

My cousin and I would get the privilege of taking some of these amazing fishing trips and spending time with him and his friends on the Tippecanoe River. I will never forget running trotlines full of huge catfish splashing and crashing in the bottom of the boat. I lost my Grandpa when I was far too young, but I thank him so much for leaving me these fond memories, and help turn me into the fisherman and person that I eventually became.
---
"Give a man a fish and you feed him for a day. Teach a man to fish and you can feed him for a lifetime."
---
Copyright 2012
All Rights Reserved
Randy's Antique Fishing Lures
No unauthorized duplication of any content from this website is permitted.