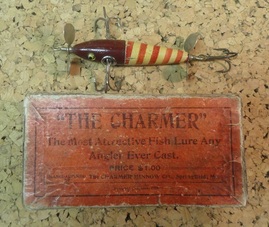 The Charmer Minnow. Springfield, Missouri / c. 1910
The Charmer Minnow Company first patented these unique lures in 1910 in Springfield, Missouri. A few different obscure varieties do exist, although they are very scarce. Some of these include the Musky sized Charmer and the Half-Charmer.
Constructed with cedar bodies and german silver hardware, these are favorites among many early antique lure collectors. The unique "Barber Pole" paint patterns have probably "charmed" more lure collectors than they did fish. These are one of my personal favorite old lures by far. More of these cool early lures can viewed on my website by clicking on the link below.
http://randysantiquefishinglures.com/misc-lure companies.html